Investing In Apartment Buildings Across Canada with Michael Ponte
Hello, my fellow Wealth Hackers!
How is everyone doing?
Back at home we finally replaced the batteries in our weight scale. I'm about 15 pounds heavier than the last time I checked. At just under 200lbs, this is the heaviest I've ever been lol… which is ok.
I am in week 4 of 8 in a muscle building challenge and I've kept up with the workouts, not so much the recovery and stretching nor sleep. I haven't even kept up with the 2500 calories per day I'm supposed to eat so this has been an interesting journey for sure.
I believe life is all about experiences and I'm enjoying this process.
Our new house that we move into in March has a pool so the goal is to be pool body ready by the summer.
On a fun note, we just had our best month of stock hacking yet so we are reinvesting the money into getting a Peloton Bike: an indoor bike with a built-in tablet that streams live and on-demand classes. My output is tracked and shared which is cool.
If you're a fellow wealth hacker with a Peleton hit me up, it would be cool to ride together.
Speaking of Stock Hacking, the Stock Hacker Academy is proud to announce that 20% of our trading profits will be donated to the registered charity the Hamilton Basket Brigade.
How this works is the Stock Hacker Academy is a business and the profits will be added to the corporate trading account, then 20% of trading profits will be donated.
In January alone, the donation will be about $6,400 US dollars.
As we grow Stock Hacker Academy to help more and more every day, hard working Canadians create a six-figure side hustle, we will donate and support the most disadvantaged children in Hamilton.
Just last week, the Hamilton Basket Brigade, the charity I co-founded and preside over, last week we outfitted 176 boys and girls with each receiving a winter coat, hoody, winter boots, hat, and mitts. We sourced all the products from a wholesaler as well so we saved around 60 cents on the dollar.
I trust your investments are going well.
In my day job as a real estate professional, I get to connect with real estate investors from all over Canada and a couple in the US too. It's fascinating to a real estate geek like myself how different all the markets are across Canada. I'm looking at an interactive map on wowa.ca (https://wowa.ca/reports/canada-housing-market) on real estate price change by province.
Nova Scotia, Ontario, Quebec, and BC led the way in price appreciation. Saskatchewan and Alberta had the slowest price growth but they did grow in the single digits.
This gives me the idea that I need to reach out to friends in Nova Scotia and Quebec to find out what's going on in those markets.
Just to take a step back, some like to overcomplicate real estate investing when put simply, real estate is like any other business in that things start with supply and demand. The supply of land in desirable areas is limited. That is why my own investing has focused on houses on land and not condos in the sky.
Demand comes from jobs and immigration. Where is there job growth and where do immigrants want to live? The greater Vancouver area makes a ton of sense since the weather and lifestyle are awesome. They are accepting of folks from different cultures much like Ontario which is another top destination for immigration and job seekers.
When demand outstrips supply, that's where you find price appreciation.
For all you killing it on the real estate appreciation, congratulations!! You paid attention to economic fundamentals and took action.
For some investors, their requirements lead with cash flow so I'm hearing how everyday investors are going to Windsor, North Bay, Edmonton, Moncton, New Brunswick or apartment buildings which bring us to this week's guest, nationwide apartment building investor, Michael Ponte!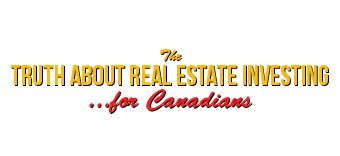 ---